The Tao of Steve; Zen and the Art of Landscaping - the titles alone suggest a spiritual undercurrent to the features and shorts at the fifth annual Nantucket Film Festival. That kind of faith probably came in handy for those organizing this year's edition of the island's shindig, which was established to celebrate the art of screenwriting more than the art of the deal, to promote credible artistry rather than glitzy celebrity. Nantucket has suffered a few reverses of late, with Vanity Fair, for example, transferring its sponsorship as well as its notorious party to the rival Newport affair. The festivites were more strained and disorganized this year; but the weather was the best ever, and so were the movies.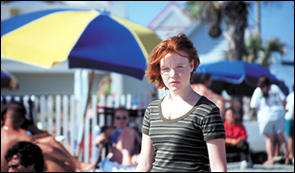 No distributor? Maybe its festival appearance will get Robert J. Siegel's outstanding Swimming some notice.

That's the chief reward of any festival - catching a film like Robert J. Siegel's Swimming that is outstanding but has no distributor and would likely go under without such exposure. Reminiscent of Victor Nuñez's Ruby in Paradise, Swimming take place in a Myrtle Beach that's captured with loving trashiness. Ugly duckling Frankie Wheeler (moon-faced Lauren Ambrose from Party of Five, whose features are both oversized and fragile) owns a diner with her brother Neil, though an opening shot of her washing up while he sits on his ass shows how equally that arrangement works out. But Frankie has her own brand of ass-sitting: she can't seem to shake a grind that includes hanging out with Nicola (Jennifer Dundas Lowe), the partying proprietor of the piercing salon next door, and being dissed by the college jocks and Marine jarheads who pass through town for R&R. When beautiful Josee (Joelle Carter) starts work as the diner's worst waitress, Frankie falls in love, which changes nothing but only makes her life more plangent and painful.
Robert J. Siegel's movie dips into areas largely untouched by recent films: women's friendships and real life. Frankie (Lauren Ambrose, from HBO's Six Feet Under) has seldom ventured from the Myrtle Be ach summer resort that is her home town, and she could hardly seem more out of place. Red-haired and painfully pale, with big cheeks like a Campbell Soup Kid, she hoofs about the beach and honky-tonk streets in overalls while best friend Nicola (Jennifer Dundas Lowe), who owns th e body-piercing parlor, shows all the skin she can. In short, Frankie has no interest in the local scene, let alone the activity of the titl e, but she's stuck because she co-owns the family diner along with her crabby, married brother Neil (Josh Pais). So each summer succeeds the next, the tourists come and go, and Frankie still hasn't bought a car and escaped.
Inevitably a stranger comes to town - two in fact. Josee (Joelle Carter) has looks, clothes, and style - everything Frankie doesn't, ex cept a job. She becomes the worst waitress in the diner's history, and Frankie's new best friend. Heath (Jamie Harrold) is a latter-day hipp ie in a van whose subversive taste immediately picks out Frankie from the town's array of beauties. Hotheaded Nicola finds herself high and dry, and despite the tangles of jealousy and attraction, life continues pretty much as before - waiting tables and denying desires. At time s Swimming can seem as if it were treading water, but then you look up and the shore is far away or totally changed, with the familiar gone and everything new but somehow all the same.