It's the little film that could. Spurned by distributors and shunned by studios, "Swimming," the story of a young girl named Frankie Wheeler growing up over a summer spent waitressing in Myrtle Beach, S.C., is fighting a city by city battle at the box office against the big movies of summer.
And winning.
"We just got the numbers from Dallas," director, producer and co-writer Robert J. Siegel says in a recent telephone interview. "The review gave it 3 1/2 stars, which is great, but what it even better is that it had the best opening weekend of any art film, and it was sixth of the 12 movies that opened this weekend.
"I knew it would do well in places like Boston," he adds with a chuckle, "but who knew they'd love it in Texas?"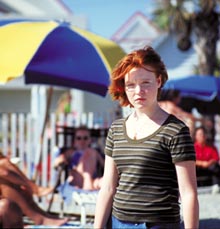 Lauren Ambrose plays Frankie, a shy young woman working at a Myrtle Beach, S.C., diner, in Robert J. Siegel's "Swimming."

"Swimming" played at the Woods Hole and Nantucket film festivals a few years ago. Yesterday it opened at the Nickelodeon Cinema in North Falmouth as a special presentation of the Woods Hole Film Festival, which begins this year on July 27.

"The best part about making this movie was that we were under no obligation whatsoever to anyone. This movie is what I call fiercely independent," Siegel explains. "It's got a very European feel to it - Eric Rohmer was one of my muses when making it."

Rohmer is the French director of such art films as "Pauline at the Beach" and "Claire's Knee."

"That's what you get when you finance the movie yourself - independence. Of course, I could end up driving a cab when this is all over, but it'll be worth it."

Strong lead

"Swimming" stars Lauren Ambrose. Known to millions these days for her role as Claire Fisher in the HBO series "Six Feet Under," Ambrose was a fledgling actress with a teen comedy or two under her belt when she walked into the casting call for "Swimming." Siegel says he knew when he met her, before he even knew if she could act, that he'd found his Frankie.

"It almost never happens this way, but I knew she was right," he says. "Of course, people told me I was mad to cast her. Lauren's not beautiful in the traditional Hollywood sense, but neither is Frankie. What Lauren has, and what the character has, is emotional integrity. There's not a false note in her entire performance.

"Was it hard work for her? Sure it was. Lauren is a wild mare, in terms of talent and particularly back then, but it's worth it. Plus, she's a stickler for honesty, in her part and from the people around her. I admire that. You don't find that in many people these days."

Siegel has plenty of war stories from making a low-budget independent movie on the beaches of South Carolina during the winter.

"I can remember we were shooting a dinner scene on the porch of one of the homes we were using, when in the middle of the take the town Christmas lights went on in the background," he says, laughing at the memory of what was at the time a frustrating experience. "We had to be careful in a lot of the outdoor shots so the audience wouldn't see the vapor coming out of the actors' mouths when they spoke. And there's a long steady cam shot at the end where if the cameraman moved a quarter of an inch in any direction it would have revealed how deserted the place really was. But none of it is in the final print. It looks like it was filmed at the height of the summer season."

Siegel previously has served as producer-director of "Parades," a 1971 film about the Vietnam War, and "The Line" (1980), about a prisoners' sit-down strike in a military stockade. He also co-wrote and co-produced "Descending Angel," an HBO movie starring George C. Scott and Diane Lane. He has served for the past 10 years as an associate professor of film at Purchase College, State University of New York.

Despite the success of "Swimming," Siegel is taking nothing for granted. Asked what he plans to do next, the director says, "See how it plays on the Cape."

# # #