Swimming is a refreshingly realistic, affectation-free coming-of-age tale, a rare critter in these days of gross-out teen comedies and clichéd, Dawson's Creek-y rite-of-passage stories. Set in the tourist town of Myrtle Beach, S.C., it unfolds with a rare amount of patience and subtlety – and a leisurely pace that matches its setting.
The film focuses on Frankie (Lauren Ambrose), a tomboyish young woman who, along with her much-older brother, Neil (Josh Pais), runs the family burger joint left to them by their parents, now retired and living in Arizona. Frankie is adrift in her world, yearning for something more than the fleeting excitement of summer; the endless weekend partying along the boardwalk with her outspoken best-friend-since-grade-school, Nicola (Jennifer Dundas Lowe); and the empty routine of the restaurant. She wants her own identity, but she's too introverted to seek it.
Enter flirtatious Josee (Joelle Carter), current girlfriend of one of the local lifeguards. She's a looker and knows it, and carries herself with the confidence that comes from knowing she can get whatever she wants by flaunting her assets, including a job at the restaurant. She's the most incompetent waitress on earth, but that hardly matters to Neil.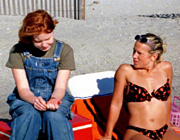 Two teenagers (Lauren Ambrose and Jennifer Dundas Lowe) find their friendship is changing.
She takes an instant liking to Frankie, who feels flattered and encouraged by Josee's charms. And when a likable drifter starts to romance Frankie, she finally begins to awaken as a sexual being. Nicola watches from the sidelines, both jealous and concerned, as her lifelong sidekick begins to slip away from her.
Director Robert J. Siegel, with the help of co-writers Lisa Bazadona and Grace Woodard and cinematographer John Leuba, effectively realizes the characters and the world they inhabit. There are no shortcuts here; everyone is given the development and details they require in order to exist as living, breathing, thinking entities.
Ms. Ambrose, better known to audiences as the fiery-tempered, copper-haired hellion Claire Fisher on HBO's Six Feet Under, gives an incredibly understated, nuanced performance. Frankie is the center of the movie. She's a repressed young lady and her dialogue is minimal, but Ms. Ambrose manages to make the most of her silence by speaking volumes with just the right facial expressions and body language at just the right moments. It makes you look forward to seeing more of her. With luck, we will.
Published in The Dallas Morning News: 06.14.02
# # #