In January of 2000, Lauren Ambrose found a degree of professional confirmation and encouragement at one of America's most forbidding places (for both its severe weather and dog-eat-dog competition) – Park City, Utah.
Ms. Ambrose, 23, known primarily as hell-on-wheels teenager Claire Fisher on HBO's Six Feet Under, was starring in two films showing in Park City: the comedy spoof Psycho Beach Party, which was screening at the Sundance Film Festival, and the coming-of-age drama Swimming at the Slamdance spinoff festival.
"At Sundance, it was a lot of agents on cellphones," she says during a phone interview from Hollywood. "At Slamdance, right across the street, we packed into this small room that had been turned into a screening room, people clamoring to get in there and watch the movie. Afterwards, the lights went on and people had so many questions. There were young people and filmmakers and they really wanted to be there, and you had the sense of being part of something."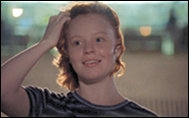 Lauren Ambrose plays Frankie in the coming-of-age flick Swimming, playing at the Angelika.
It was "an inspiring moment" for Ms. Ambrose, who considers her overall performance in Swimming to be a career benchmark, one that allowed
her to flex her acting muscles. The film, which opened Friday at the Angelika, was directed by filmmaker-turned-professor Robert J. Spiegel (his first feature film in 20 years) from a screenplay written by one of his students and independently produced and distributed.
"The way this movie was made, the collaboration from its inception and its creation was really inspiring for me to work on, and I think people will like to see it," she says. "I think this kind of filmmaking is a remedy for people who maybe are dissatisfied with some of their options."
Ms. Ambrose plays the central character, Frankie, a restless young girl living and working in the tourist town of Myrtle Beach, S.C. She yearns for something more than the fleeting excitement of summer but is too introverted to establish her own identity. Over the course of one summer, she meets people who change her outlook, and she redefines her relationship with others she's known all her life.
"It was a really incredible process as an actress because I'm probably in almost every frame in the movie and I have the least amount of dialogue," she says. "It was an exercise in silent film acting. Doing a lot with close-ups and walking. I got to be Charlie Chaplin a little bit, so that was an interesting thing for me to think of as an actor; how to create a character without necessarily a lot of words and a lot of dialogue."
Being a Connecticut native and classically trained opera singer and pianist, Ms. Ambrose and Frankie aren't exactly two sides of the same coin.
"Certainly, I bring a lot of myself to the character and have to make it real to me, so I bring my own experiences to it, but I think, on the whole, she and I are pretty different people.
"I think, especially, being from the Northeast is very different than being raised in the South. That was something that was very interesting to me was to hang out with the people who were down there. It's sort of an easier pace of life and more accepting and less academic, and that was comforting."
Frankie is also different from Ms. Ambrose's regular gig as Claire, who once stole a dead man's foot and hid it in her boyfriend's locker. (they were having problems, you see). Neither one holds a candle to Chicklet, the Gidget knockoff from Psycho Beach Party with a split personality.
"It's fantastic. I love acting, I really love what I do. I really like having the opportunity to play different characters, and, fortunately, every job I've had has been pretty different from the last."
For the moment, Ms. Ambrose is settling into her new Hollywood home with her husband and looking for new projects while Six Feet Under is on hiatus (new episodes won't air until January). Although she's content with acting for now, Ms. Ambrose would like to step behind the camera as a writer and/or director.
"I always think about that, but I really love being an actress right now, and I love learning and being on film sets, especially Six Feet Under, because it's so intense and intensive and we make 13 little movies every year," she says. "It's really like film school in a way. It's a definite education for me, and I hope someday to be able to use it in a way that lets me be more in control of the final creative outcome."
# # #