In a Hollywood wasteland of starved starlets and plastic-surgery queens, Lauren Ambrose is a true original. With the electric red hair and round facial features, she trades waifishness for voluptuous self-assurance and commands the screen with her engaging presence. These qualities have made her the talk of the town on HBO's gay-friendly Six Feet Under. And she's just the kind of person filmmaker Robert J. Siegel needs to buoy his quiet teen-beach drama from relative obscurity into respectable distribution.
He should be thankful and we should as well, because we get access to a fine little picture that, in its leisurely pace, intelligently and emotionally pulls viewers into its world. Ambrose may not have suspected that her star would rise high enough to sell a movie solely on her merits, but it happens here. And her unique beauty mixed with an alternative edge makes the sell that much easier.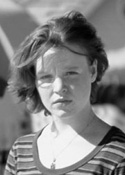 In Swimming, Ambrose pumps up the frump factor as boyish-girl Frankie, a misfit in overalls who goes all but ignored by the endless stream of hot, bare-chested young boys on vacation in Myrtle Beach. Working at a diner, co-owned by her parents and run by her brother Neil (Josh Pais), Frankie spends most of her time with her sassy and unclassy best friend, Nicola (Jennifer Dundas Lowe). They pass the days in uncreative ways, and Frankie begins to feel the vacuousness of another ho-hum summer.
Her fires are kindled when a new woman, Josee (Joelle Carter), comes to work at the diner. Although she is a terrible waitress, Josee is good at asserting herself and showcasing sexiness as a summer fashion. Josee has a relationship with a cocky lifeguard, but after spending more time at the restaurant, she grows a stronger attachment to Frankie.
There's a powerful light that gleams in Frankie's eyes when Josee is around. She soon finds herself less interested in bumming around with Nicola, who jealously runs for cover in the arms of other boys. After some complications in their relationship, Josee splits up with her boyfriend and moves into Frankie's house and bed for a spell, but there's nothing down-and-dirty about this arrangement. The relationship the two develop is intimate and undeniably sexually charged, but also sex-free. It seems to be more about Frankie's admiration of Josee's womanhood and desire to be more like her than an impassioned interest in becoming her girlfriend.
It's all pretty complicated. And thus Swimming stands as an accurate and inspired portrayal of teen life. The film doesn't head in simple directions or follow the ground rules concretely. It maintains a level of spontaneity and wonder as we are introduced to its series of interesting characters. As Josee, Carter does an extraordinary job of creating her sexy role. She's the kind of girl most anyone searching for identity could find encouraging.
But ultimately, the movie belongs to Ambrose. In a flash of subtle beauty, she imbues her character with the awkwardness and self-awakening that's a significant part of life at this young age. It's all there in her expressive face — the agony and the ecstasy of the South. And it's quite a departure from the headstrong Claire of Six Feet Under, showing that she has the kind of range that will keep her around for a while.
While Swimming covers little new territory in the genre of coming-of-age dramas, it gets the job done in a more realistic and affecting way than standard Hollywood fare could attempt. And it makes for an engaging, quiet summer escape.
Opens today exclusively at the Angelika Film Center.
# # #