It's summertime, and as fun seekers and tourists flock to Myrtle Beach, N.C., flame-haired Frankie Wheeler longs to be someplace else. Any place.
Frankie is half-owner of a struggling diner. After work, she and her wild best friend, Nicola, go to the beach or walk the town's bustling drag. Wearing overalls and a sad demeanor, Frankie looks as out of place as she feels.
Things change when sexy Josee blows into town. Nicola instantly dislikes the newcomer, but Frankie -- like most everyone else -- is mesmerized. With no experience or qualifications, Josee persuades Frankie's brother to hire her.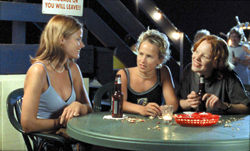 New girl in town Josee, played by Joelle Carter, from left, comes between longtime friends Nicola (Jennifer Dundas Lowe) and Frankie (Lauren Ambrose).

The most impressive quality of this charming movie is the way the characters, who are all recognizable "types," refuse to behave the way we expect. Even when they sometimes do, the filmmakers have the sense to touch upon it lightly, then quickly look for something more interesting to pay attention to.

Lauren Ambrose, who plays a morose, put-upon teen in perhaps the best show on television, HBO's Six Feet Under, is Frankie. She marvelously portrays the character's longing and confusion as she and Josee grow closer.

Josee seduces people -- it's how she gets along -- and Frankie clearly is smitten. But while this at first looks to be another coming-out movie, it isn't.

First of all, there's a guy in the picture, a pot-smoking flake who lives in his van and can't keep away from Frankie. But the film isn't about who Frankie sleeps with. Rather, it's about a restless, discontented soul discovering herself and finding a way to exist in the world.

Josee is a catalyst for this, but it eventually becomes apparent that the more important relationship is the one between Frankie and Nicola.

# # #