One of the greatest moments in Lauren Ambrose's young life took place two years ago at the Slamdance Film Festival screening of "Swimming," an intimate coming-of-age drama in which she plays a young woman adrift but trying to find her place in the world.
"It was the first time I had seen it," recalls Ambrose, who also plays the artistic but troubled teen Claire on HBO's drama series "Six Feet Under."
"Everybody was so excited to see this movie, and people asked so many questions about the film and were so moved by the film," says Ambrose. "Everybody had a sense that something was going on--there was a real energy in that room. Everyone had a passion for filmmaking."
After playing the festival circuit for more than a year, "Swimming" has been slowly rolling out in theaters across America. It has played three months in Boston, two months in Dallas and arrives for a one-week run in Los Angeles this Friday--a week after Ambrose was nominated for a supporting actress Emmy for "Six Feet Under."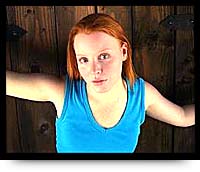 Lauren Ambrose of "Six Feet Under" also stars in "Swimming," which arrives in L.A. on Friday.
LUIS SINCO / LAT

The pale, red-haired actress dominates the low-budget indie film as Frankie Wheeler, a rather plain Jane who operates a cafe with her brother in the North Carolina resort of Myrtle Beach. The film focuses on one pivotal summer when Frankie's mundane life is turned on its ear with the arrival in town of a beautiful young woman who becomes a waitress in the cafe and a drifter who lives in a van with his two dogs.

When director Robert J. Siegel saw Ambrose in the waiting room before the audition, he knew she was his Frankie. "As a smart actor, she dressed for the role," he recalls. "She had some baggy shorts that made her look less like Lauren Ambrose and more like Frankie Wheeler. It was her face and her eyes, which immediately take her inside of you. You get this gut feeling sometimes; nobody even came close to Lauren."

"I kind of went for it," says Ambrose, during a recent lunch at a quaint greasy spoon in Benedict Canyon. Ambrose, 23, is friendly but reserved as she picks at her grilled cheese sandwich.

Playing Frankie, she says, was "really an interesting" exercise and a "new venture for me to play a character that is practically in every frame of the film and has the least amount of dialogue. It's really cool to figure out a way to make the character real without the aid of words. It's a very subtle film."

Being simpatico with director Siegel helped. "He had an idea of the kind of movie he wanted to make, not any explosions or any big changes in the character. It's sort of a miracle to see if it will all jibe and see if the director's vision will be there and if the actor is doing what is appropriate for the scene."

As far as Siegel is concerned, Ambrose rose to the occasion. "She had done wonderfully before in films," says Siegel, "but they were ensemble pieces, and here she faced being a star. She had to internalize to express her inner life without being able to articulate it into words. She frumped herself up. A lot of up-and-coming young stars would be very concerned about doing that."

Ambrose didn't dress up for her audition for "Six Feet Under" but, according to executive producer Alan Poul, she lighted up the room. Poul and series creator and executive producer Alan Ball ("American Beauty") had a hard time casting the role of Claire, the tormented but vulnerable youngest child of a dysfunctional family that owns a Los Angeles mortuary. At the end of last season, Claire, who drives a green hearse, didn't know if she had been accepted at an arts college in Los Angeles or if she would be forced to attend a community college.

"Claire was one of the most difficult roles to cast because on paper, if you read the pilot, it is such an unusual character, such an edgy character," says Poul. "Finding someone who had the combination of genuine edge and, when necessary, hostility but also was deeply vulnerable, and it was truly difficult. It's very taxing for a young actor to do something that complex."

Ball and Poul eventually narrowed their choices to three, including Ambrose, and presented them to HBO brass. "She is so fearless," says Poul. "She filled the room. I think that was the moment we saw her limitless capability. It was one of those moments of absolute clarity."

"I work well under pressure," Ambrose says. "I read the script and thought it was wonderful, and having Alan Ball's name on the front page, I wanted to be a part of it."

That the series has become one of the most popular on the cable outlet and received 23 Emmy nominations last week, including one for Ambrose, took the actress by surprise. "It's really struck a chord," she says. "It's really flattering. I get to act every day and am surrounded by really creative people, especially the actors in the show. You make a little film every week. It's an intense shooting schedule. We made an episode in nine days and it's a very dense hour."

Ambrose, says Poul, made a major contribution in the development of her character. "We can take her anywhere," he says. "Lauren has been working for a while and she has a great deal of experience for someone her age. I see a lot of young actors working without a rudder. She has a great deal of wisdom. She has a very secure knowledge of her own gifts, and she understands what works for her and what doesn't."

Although she's made her mark playing angst-ridden teenagers, Ambrose seems to have known at a very young age what she wanted to do with her life. Born and raised in New Haven, Conn., she discovered she had a voice as a youngster and trained as an opera singer. "That's how I found performing and acting," she says, taking another bite out of her sandwich. "I went to Catholic school, and there was always singing going on."

At 14, she told her parents she wanted to act professionally. "I can't remember how it worked," she says. "I had an agent send me out. It was very low-key during the summers. I did episodes of 'Law & Order' during the summer vacation, and that was sort of my introduction to it. After that, I decided to go for it and see what happened. I started working pretty consistently."

Ambrose's acting career has been so hectic that she didn't have much time to sing. But this summer, she has made the time. "Maybe it will be another career one day," she says.

# # #