Lauren Ambrose gets to do something every actor dreams of - and sometimes dreads - in Swimming:be on-camera for the entire length of a movie. "I'm in every frame," she says of her work in the coming-of-age character study. "But I have the least amount of dialogue. It was almost an exercise in silent film acting."
Ambrose, playing a Myrtle Beach, S.C., teen who's unsure of her sexuality and her ambitions in life, gives a performance that's thoughtful and provocative. "She's not a simple character," observes Ambrose, on the phone from Los Angeles. "I really think there aren't too many simple things about this movie, although it is spare, and I think that makes it lovely."
The unrated Swimming, shot almost four years ago, is getting a theatrical release now (it opened Friday at the Ritz at the Bourse and Ritz Sixteen/NJ) thanks to Ambrose's popularity via the HBO series Six Feet Under. The 24-year-old actress plays - brilliantly - the brooding teenager Claire Fisher on the award-winning show about a family that runs a funeral home. Among her costars: Peter Krause, Frances Conroy and Rachel Griffiths; guest stars and directors have included Lili Taylor and Kathy Bates.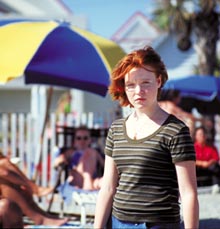 Lauren Ambrose, as a tentative teenager, is on-camera throughout the film. Made almost four years ago, "Swimming" is having a theatrical release thanks to Ambrose's popularity in the HBO series "Six Feet Under."

"I feel incredibly fortunate, because I think I have the best job for a young woman in town, being on Six Feet Under," she says. "I get to explore this character and have her be real. It's an incredible environment - very collaborative and very idealistic... . It's a humbling experience, and I've learned so much. The actors on the show are incredible."

Although Ambrose portrays problem-plagued adolescents who are lost and confused in both the series and the film, the roles are markedly different, and she gets to prove that she's anything but a one-note actress. Swimming's Frankie, who waddles around in overalls and befriends both a sexpot waitress (Joelle Carter) and a stoned-out tie-dye salesman (Jamie Harrold), is uncomfortable in her own skin. She lives in a beach town but isn't part of the surf-and-sun crowd - "she tries to blend in to the background."

Ambrose, who hails from New Haven, Conn., started as a singer, performing in youth choirs and vocal groups, and soloing at parties and weddings. Because singing "is really a kind of acting," she gradually started focusing on the latter, spending high school summers working in Off-Broadway productions. She appeared on TV's Law & Order, and landed her first film job in the 1997 comedy In & Out.

"It was a giant movie with all these movie stars in it. I had this little role, but that movie shot forever, and so I got to hang out and watch Debbie Reynolds and Tom Selleck, Joan Cusack and Kevin Kline and Matt Dillon - all these huge stars. I was just standing there with my jaw hanging open."

Ambrose, who lives in Hollywood with her husband, ad agency executive Sam Handel, returns for the new season of Six Feet Under (shot on the old MGM lot and the soundstage used for Mr. Smith Goes to Washington and Gilda) in early September. She says she has no idea what's in store for her character.

"I wish I did. It's all a matter of what comes out of [series creator] Alan Ball's brain during the time he's had on break. We never know."

But she does know there will be corpses and coffins around.

"My grandmother told me to become a funeral director when I told her I wanted to be an actress - so I've somehow melded the two," she reports. "She told me it would be steady work and I should learn that on the side. And indeed, it seems to have provided steady work for me, the funeral industry."

# # #