A BEACH community, a young girl at the dawn of sexuality, her innocence at stake and, don't groan! "Swimming" is more than coming-of-age summer mush. Director Robert J. Siegel and his co-writers, Lisa Bazadona and Grace Woodard, absolutely refuse to make predictable patterns in the sand. Instead, they set their characters loose.
Everyone's intriguingly off-kilter in this mosh pit of a movie. And none is freer and more mysterious than Frankie (Lauren Ambrose), a red-haired tomboy in overalls who, as a younger child, could have been Dennis the Menace's friend, Margaret.
At first blush, she seems vulnerable, either to being abused or nurtured. But there's more strength in her than anyone realizes. Frankie is no one's for the plucking, until she gives the word.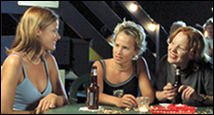 Joelle Carter, Jennifer Dundas Lowe and Lauren Ambrose star in "Swimming." (Oceanside Pictures)

Teenager Frankie Wheeler has grown up in Myrtle Beach, S.C. This summer looks like the same old routine: She works at her family's restaurant then hangs aimlessly on the boardwalk, near the tattoo parlor owned by her best friend, Nicola (Jennifer Dundas Lowe). She's ready for some kind of change.

When the blond, slinky Josee (Joelle Carter) takes a job as a waitress at Frankie's restaurant, she takes an immediate shine to Frankie. She's a beautiful young woman with a lifeguard-boyfriend (James Villemaire), but she prefers Frankie's company. This little mystery sticks firmly in Nicola's craw. And Josee's boyfriend isn't thrilled about it either. Both do everything they can to cast aspersions on this newfound friendship.

Frankie also meets Heath (Jamie Harrold), a childlike loner who makes marijuana bongs out of plastic, bear-shaped honey jars and sells tie-dyed T-shirts out of a van. He isn't afraid to declare his love for her. Suddenly there are three people extremely interested in being with Frankie. Nicola, a woman of sudden impulse and brazen statements, makes it her business to win this particular war.

From the beginning to the unexpected conclusion, "Swimming" impresses you with its open-endedness and surprises. As soon as you've got Frankie pegged, she's heading in another direction. Josee's interest in Frankie clearly resonates with sexuality – or does it? What is Frankie thinking about? What does she want? Ambrose (well known to many for her role in HBO's "Six Feet Under") is the luminous center of the movie with her expressive eyes and that allure of innocence and inchoate wisdom. She makes every moment a matter of deep suspense, as three people wait for her to choose among them. And down to the final image – an apparent tribute to Truffaut's "The 400 Blows" – you never really know where she (or this movie) is going. For a summer movie experience, what could be more exciting than that?

# # #